About 6,500 other nurses, who are members of Unison, walked out earlier.
It follows weeks of industrial action by other healthcare workers over the same issues.
The Royal College of Nursing (RCN) strike is set to last for 12 hours while many Unison health staff members, including nurses and paramedics, are staging a 24-hour strike.
Speaking at the Royal Victoria Hospital in Belfast, RCN member Nuala Murray told BBC News NI: "This was incredibly difficult. I've been nursing for 37 years.
"This is so unprecedented for us to have to strike but nurses are so fed up, they've just had enough.
"Their patients aren't safe and they need to do something."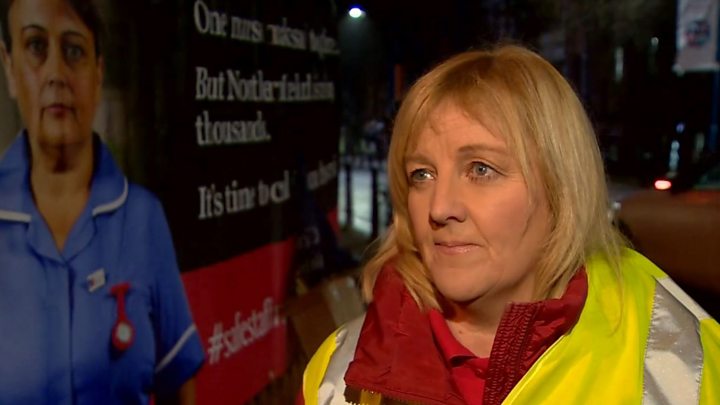 Many appointments and treatments have been cancelled because of the strike, and a number of minor injury units are closed.
The Health and Social Care Board said all emergency departments would remain open as normal, but would be under significant pressure
'Undervalued'
Mairead Meenan, a staff nurse at Altnagelvin Hospital in Londonderry, said the "fair pay" issue had brought her to the picket line.
"Everybody wants equal pay and equal rights," she said, adding that nurses in Northern Ireland felt "undervalued" compared to their counterparts doing the same jobs in Great Britain.
She called on politicians to "start talking" and sort the dispute out.
"You get paid loads and loads of money and you would not last 10 minutes in our job," said Ms Meenan.

How bad is Northern Ireland's health crisis?

On so many measures, Northern Ireland lags behind the other UK nations when it comes to NHS performance.
Not only does it has the highest vacancy rates, it also has the worst record in terms of meeting waiting time targets for cancer, A&E and routine operations.
The best indication of this is the figures for the proportion of patients seen in four hours in A&E.
England has just seen its performance sink to a record low of just over 81%. In Northern Ireland it is currently below 66%.
Why? The suspension of a devolved government has certainly not helped - delaying everything from new policy to pay rises.
But modernisation of health care in Northern Ireland was already behind schedule before that happened.
Services are spread too thinly across too many sites, so there is a lot of catching up to do - and the more it is delayed the longer it will take.

Health workers say they want to be paid the same as their counterparts in England, Scotland and Wales.
Unions agreed a 6.5% three-year pay rise for NHS staff - excluding doctors - last year, but it was not implemented in Northern Ireland because parity with the rest of the UK was broken by the devolved government in 2014.
The issue has not been looked at again because Northern Ireland has not had a devolved government since 2017.
Downing Street said the strike highlighted the importance of Northern Ireland's political parties working together to restore devolved government.
The "quickest and best" way to resolve the dispute was to get the Stormont executive up and running again, said the Prime Minister's spokesman.
He added that the Northern Ireland Department of Health had been working closely with trust chief executives, unions and staff to make sure that services were delivered safely during the strike.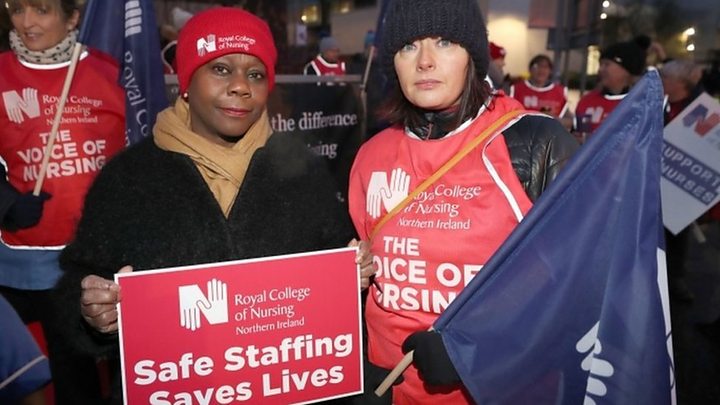 2,800 unfilled nursing posts
The RCN argues the real value of nurses' pay here has fallen by 15% over the past eight years.
There are just under 2,800 unfilled nursing posts within the health service in Northern Ireland.
The RCN estimates that a similar level of unfilled posts exists within nursing homes.
The nursing vacancy rate in Northern Ireland is 13%, compared with about 11% in England and 6% in Scotland.
This means that for every eight nurses who should be working in Northern Ireland, one is missing.
---
Analysis: Services pushed to the limit
By Marie-Louise Connolly, BBC News NI Health Correspondent
These are unprecedented times. For the first time in UK history close to 20,000 health and social care works are on picket lines, including about 15,500 nurses.
With more than 300,000 people in Northern Ireland waiting for an appointment, today's strike is going to push all services over the limit.
As healthcare workers protest and wave flags calling for pay parity and safer staffing levels, what they are also shouting about is a desire to get devolved government back up and running.
While there is a skeleton staff today, and while many appointments have been cancelled, a shortage of staff has been an issue for many years.